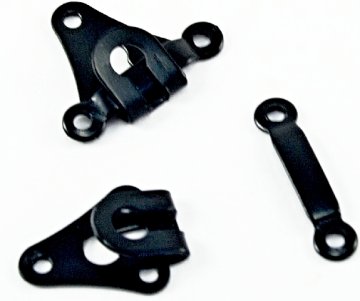 Trouser hooks are used to fasten the inside waistband of trousers. But they also find other uses. E.g. for hooking cross-country sleeves to shoe laces.
We offer these hooks in the sew-on, tuck-in, or combined versions.
One unit of the sewing hook is composed of a metal hook and a metal loop. We will sew both of these parts onto the clothes.
One set of impaling hooks, consists of 4 parts. Barbed hook and counter washer, and barbed loop and counter washer. We attach this assembly to the clothing by piercing the fabric with the pins of both parts and securing them through the washers. This type is also suitable for dress pants, when the pad hides on the inside of the leg and the connection is not visually disturbed. The use of the needling system is sympathetic even for those who do not like working with a needle and thread.
The combined pant hook system includes a hook that is sewn on and the loop is attached by pinning and locking with a counter pad. The whole is therefore composed of three parts.