Kordonet cotton yarn sizes 10 - 80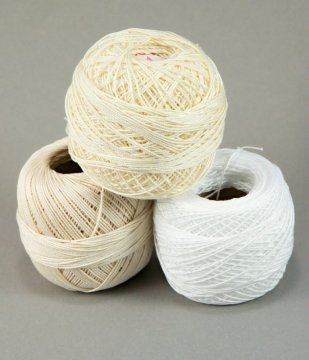 Kordonet is a traditional Czech cotton crochet and knitting yarn that is very thin.
Due to its delicacy, cordonets can be used to make, for example, crocheted blankets, tablecloths, Christmas ornaments, Easter decorations, curtains, bedspreads, starched characters and more. These balls can also be used for drumsticks. Since Kordonet is made of pure cotton, it can be washed well at up to 60 °C. After washing, the products can be starched, which you will appreciate especially with characters and various decorations, so that they keep their shape nicely.
We offer it in three colors and six thicknesses.
The strongest is Kordonet number 10 and the thinnest is number 80.