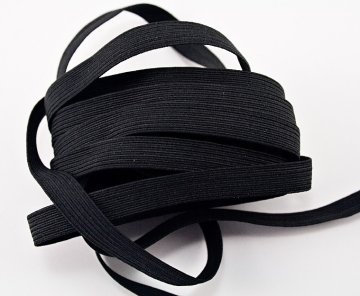 Elastics are offered in various types, widths, shapes, and colors. 
We offer flat elastics by the meter or you can choose 5-meter packages. In our store, you can find flat elastics in width starting at 0,4 cm to 10 cm.
Shoulder elastics are used to repair or make underwear and bras. 
Round elastics are of various thicknesses, diameters have a wide purpose range. Thinnest round elastics can be used as a sewing thread. Thicker elastics can be used to strengthen edges of knitted products, for holding costume masks, or for any other technical purposes. 
We also offer extra soft Czech made round elastics for face masks making. 
The strongest elastics with a circular cross-section can be used as an elastic rope for technical purposes. 
Buttonhole elastic types can help you with the adjustment of trousers waist. 
Fold-over elastic trims are both functional and decorative.